If you are interested in sealing your new brick pavers, Moderna can determine how soon your new Jacksonville paver installation project will be ready for sealer. This will depend on a few characteristics of the new pavers; the porosity- or the total volume of the pores and how much water will be absorbed, the amount of efflorescence visible on the surface- this will vary depending on how recent the bricks were manufactured as well as other factors such as humidity. First, the pavers are treated for stains if necessary. Then if necessary we clean them with specialized paver efflorescence cleaner to remove any ground in dirt or chalky white salt deposits that may be present.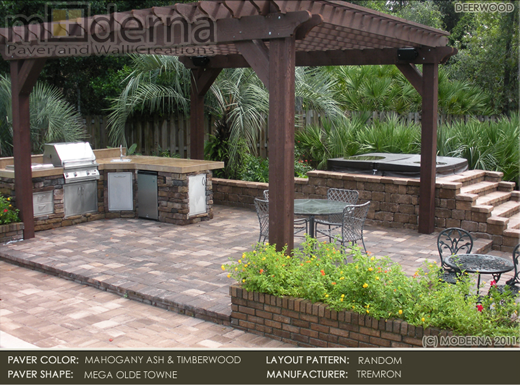 We reccommend using sealers that are non-hazardous, environmentally safe, and have mold and mildew inhibitors built in for added protection of you new brick pavers. As with all pavements, sometimes maintenance is necessary. Moderna offers the following maintenance and care recommendations for your new pavement.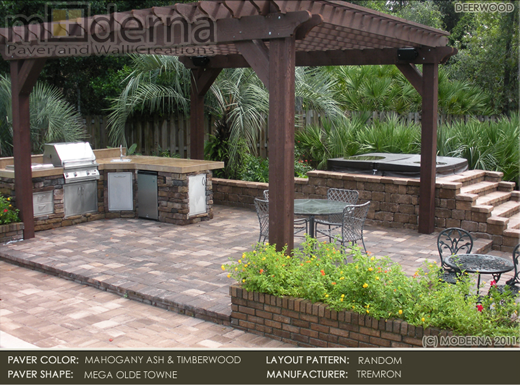 Concrete pavers on driveways stained by oil leaking from cars aren't damaged by petroleum products, but the stains can be difficult to remove. Stains should be treated as soon as possible since the longer they remain on the surface, the deeper they penetrate and the harder they are to remove. Wipe excess oil from the surface as soon as possible and apply liquid detergent. Allow it to soak for several minutes. Then wash the pavers with hot water. Several treatments may be necessary for particularly stubborn stains. If stains are still present, we will apply sleaners specially made for removing oil stains from concrete pavers. In some cases, it may be simpler to replace the stained pavers with new ones.