Moderna Pavers specializes in the removal of old concrete driveways and installing beautiful brick pavers. Removing concrete drives and replacing them with beautiful brick pavers is our core business. We install at least one new paver driveway in the Jacksonville area each week, with more than 400 completed paver driveway projects in the North Florida area over the last 10 years. Moderna provides in-house design and rendering for project planning in addition to construction documents for HOA approvals. Since we own the equipment and the owner executes the critical work such as the excavation, demolition, hauling, grading and elevations himself, we can complete most residential driveway renovations from start to finish in just two to three days.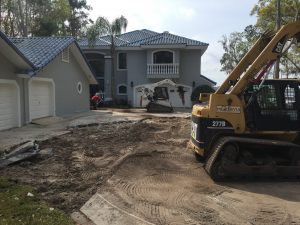 Our unique in-house approach utilizing owned, owner-operated machinery and trucking allows us to facilitate smooth efficient project workflow and completion.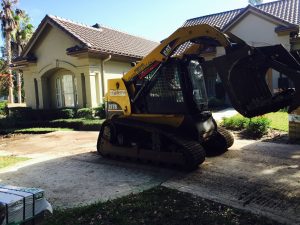 No firm in Jacksonville has installed more paver driveways in Jacksonville than Moderna. We pride ourselves in our niche of paver driveways and have aligned the business to be the most effective for this type of project. Because each and every project is completed personally by the owner, we are able to keep quality control at its highest levels and install each project as if it were our own. We have received the most "A" rated reviews on sites such as Angies List, Google, Yelp, Better Business Bureau than any other company of this type. Our work has also been filmed by HGTV's "bang for your buck" television show featuring a project in Queens Harbor. Most communities in Jacksonville have more than 25 of our driveway projects completed over the years. Neighborhoods such as Jacksonville Golf and Country Club & Marsh Landing Golf and Country Club have more than 50 Moderna projects in each.
We have designed and installed paver driveways in for Jacksonville's most prestigious residents- professional football players, coaches and NFL general managers, the most prominent business owners & attorneys in town, world renowned musicians, & local celebrities. We have also installed driveways at the personal homes of some of the area's prominent commercial building contractors, architects and engineers. In every project, you deal directly with the owner during the sales process, have your project completed and supervised directly by the owner and have the final walkthrough personally with the owner. Our project manager and many member of the crew have been with us for more than 5 years.
You may also see Moderna completing paver demolition and excavation for other paver companies and general contractors in the Jacksonville area, as we are sometimes hired as a subcontractor for companies whom do not perform their own work themselves.